Jason Wood MP and councillor Brett Owen officially opened our newly resurfaced 1 and 2 courts at Beaconsfield Tennis Club in January during the BTC open day. Ossie's coaching team held some fun activities for the kids while the committee, mid-week ladies and senior members coordinated adult activities and feeding the masses. Thank you to all our helpers, committee, Jason, and Brett for all your support.
Beaconsfield Junior Tournament
BTC had a great day on the courts for the first Beacy tournament of the year. All 9 courts were full for over 5 hours of quality tennis on the first day.

Congratulations to the finalists of the singles events…
A grade: Will Kent def. Noah Keltie
B grade: Justin Song def. Lachlan Peake
C grade: Victoria Peake def. Thomas Peake
D grade: Zachary Wilson def. Asher Wilson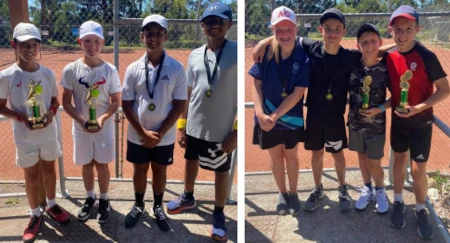 Congratulations to the finalists of the doubles on the second day…
A-B grade: Noah Keltie & Masato Burgess def Kai McQualter & Viran Dhamakirti.
C-D grade: Zachary & Asher Wilson def Chaise Watersten & Xavier Fisher
Thanks to the parents, grand-parents and siblings who supported the players.
Mid Week Ladies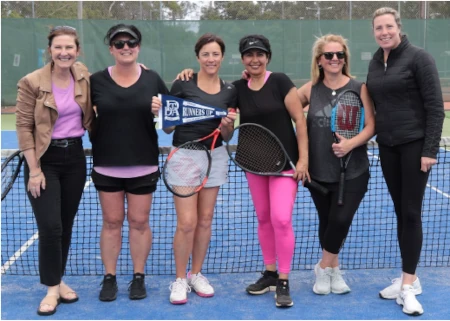 Congratulations to Beaconsfield Section 2 Runners-up DDTA Spring season 2022.  Left  to right, Celia Kenny, Nat Szybkowski, Lee Moon, Tee Suhail, Rosemary Cornish, Rebecca Pryor.
Santa
Look who paid us a visit at Christmas time. Thank you, Santa, for the lollies and entertaining the kids with your exceptional tennis skills.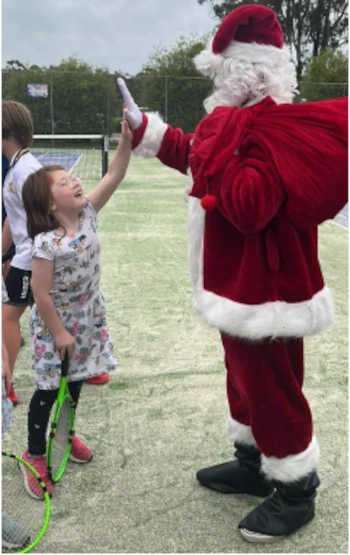 Also, a big thank you goes to our Platinum sponsors, Syarif and Rachel from Peake Real Estate for the yummy BBQ.
OTC ran some great activities for the kids and Josh McCormick, his partner Ellie, committee member Louise and tennis mum Mel put on additional treats. Thank you also to our Leadership academy players for the decorations. It was a fantastic way to end the year.
Interclub Competition
Midweek Women's Comp
For the ladies, our club participates in the Dandenong and District Tennis Association competition on both Tuesday and Wednesday mornings commencing at 9:30. Contact Anja Potter 0437 074 287
Junior competition
For both girls and boys up to the age of 18, our club participates in the Berwick and District Tennis Association on both Saturday and Sunday mornings commencing at 8:00am. Contact Brad Meates  0405 428 208
Senior competition
Our club participates in the WDTA on Saturday afternoons and is open to all ladies and gentlemen. Contact Adrian Walsh 0425 747 615
Social Competition
Monday/Wed night mixed Comp
Beaconsfield and Officer have two social competitions in collaboration with each other. Wednesday night social is for all abilities for all ages. It's a great night out for those who like a game of tennis but don't take it very seriously. For the more experienced serious player, Beaconsfield/Officer have a Monday night advanced hitters' competition. The format is Rubbers with teams of two. Price per night for both Monday and Wednesday night competitions: Members $5 and Non members $10. Contact Maurie on 0437 759 793 for Wednesday night social and contact Josh McCormick on 0458 869 252 for Advanced Hitters.
Casual Men's Thurs night
For a very casual men only hit, Thursday night is for you. Contact Gavin Baxter 0418 107 363
All night competitions commence at 7:30pm.
Veterans Day Social
For a Sunday morning social hit, come down to the courts at around 8:00 am for a social hit and free coffee from the canteen. Contact Les Donaldson 0409 435 121
2022/23 Annual Membership Fees
NEW SOCIAL CLUB MEMBERSHIP AVAILABLE
Membership year
The financial membership year runs from 1st September to 31st August. Pro-rata fees are available to new members only. Go to www.beaconsfieldtennisinc.com to obtain a membership form and payment details.
Adult – Competition Play $160
Adult – Social Play $120
Youth – Competition Play $140
Youth – Social Play $100
Junior – Competition Play $120
Junior – Social Play $60
Family – Competition Play $300
Family – Social Play $250
Casual Court Hire
$10 per court (per hour)
Book a court is now available through our website: www.beaconsfieldtennisclubinc.com
Go to Court hire and follow the links. The synthetic grass courts are available for hire only when not in use. Competitions and coaching take precedence.
Main Contact Details:
All general queries Phone: (03) 88205853
Secretary phone: 0437 759 793
Email: mauricepotter@bigpond.com
Facebook: Beaconsfield Tennis Club Community
Mail: P.O. Box 132, Beaconsfield, VICTORIA, 3807
Website: www.beaconsfieldtennisclubinc.com
Coach: Ossie's Tennis Coaching Ph: 0413594633    Email: ossie30@bigpondnet.au