APS-Wilson Park (Berwick) Inc. has become APS Cardinia Region Inc.
Over many months the APS-Wilson Park (Berwick) group had been forced to consider the viability of the group continuing or winding up. Membership had fallen to 14 people with most being in an older age group making organising any activities difficult. Four of our committee were octogenarians.
Our committee examined the option of amalgamation with another APS Vic group, but the nearest groups are invariably some distance and travel time from our Berwick base.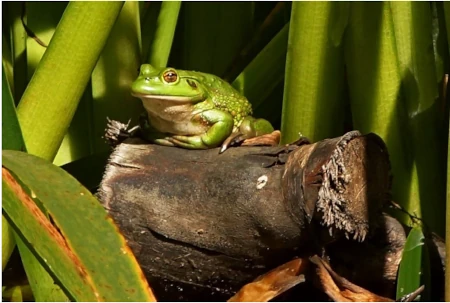 We were aware that over the past few years the Deep Creek Reserve at Pakenham has become the most vibrant environmental centre in the south east area of greater Melbourne. Being just 12km from Berwick the committee decided to shift our group there anticipating interest could generate recruitment of new members.
Deep Creek Reserve was created by Cardinia Council in conjunction with the Pakenham Golf Club and the Cardinia Environment Coalition (CEC).
CEC has operated an indigenous nursery on various sites for 20 years. Now that nursery is established in excellent facilities funded by the Cardinia Council with support from the local philanthropic Andrews Foundation. More than 20 volunteers are actively involved in the nursery. The nursery is open to the public on Friday mornings.
On Saturday 28th May 2022 we held a "Re-Launch" of our group in the Functions Room at Deep Creek Reserve with speakers being APS-Vic President Chris Clarke, Vice-President Miriam Ford and John Arnott, Manager of Horticulture, Cranbourne Gardens of RBGV. Fifty people attended the launch, several joined on the day and many more expressed interest through Facebook. We are excited that, by now, we now have 35 paid memberships.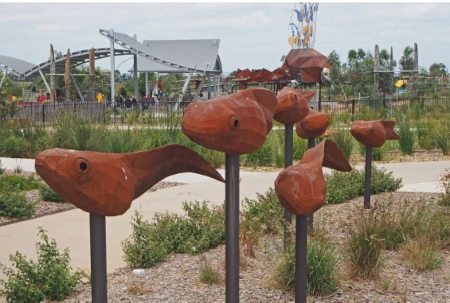 At a special general meeting members adopted the name "Australian Plants Society Cardinia Region Inc."  Our group will operate as APS Cardinia Region Inc.
The name was chosen to represent a wide area embracing Cardinia and Casey Councils and many vegetation classes in the southern Yarra Ranges and across the Gippsland Plain.
Meetings will continue on the second Tuesday of each month commencing at 7.30pm in the Functions Room at Deep Creek Reserve, 62 Cameron Way, Pakenham. New members are always welcome.
For more than 20 years APS-Wilson Park (Berwick) conducted an Annual Plant Sale until suspended by Covid19 restrictions. Now we have booked to hold our 2023 plant sale undercover at Akoonah Park, Princes Hwy, Berwick on Saturday 2nd September 2023.
Wendy Smart
Secretary
APS Cardinia Region