Phone 8768 4400
2022 has started with a flurry of new members, new activities, and new energy at the Centre.  Our steadfast, regular members have returned, and it is a joy to welcome everybody.  After the last rough couple of years, it seems that people are craving the connection of community.  As always, we're pleased and proud to provide a venue with opportunities for our community to connect again and hope there is something for everyone.
Something new to learn …
Beginners Ballroom Dancing is on Tuesdays from 8pm-9pm with a relaxed learning environment to make it more fun than formal. Term 2 is $96 for 8 weeks.
We welcome a new cooking tutor, Mary, and the office staff are looking forward to the tasty smells and samples which may float down to us! Simple Beginners Italian Cooking will begin on 1st of June from 11am to 3pm for a 3-week course at $80 plus ingredients.
Try Life Drawing with Janine on Tuesdays 9.30am-12 noon which is $126 for 9 weeks in Term 2.  Clothes stay on…
Something social…
Our wine club is starting back up after a Covid Hiatus.  Join us on Thursday 24th March for tasting a variety of wine from 7pm at only $15 each (all inclusive).  You may like to share the details of favourites you discovered in lockdown. Bookings are essential!
We are also working to get a new Seniors Singles Mixer group started.  We already have some interest and would love to get a few more names on the list to ensure a good mixture of people.  Ring or email us with your feedback about starting this new group.
Something for a healthy mind…
Recognising the emotional and mental impact of Covid, we have enlisted an accredited counsellor to facilitate a new support group.  Instead of trying to book an expensive private session or floundering on a waiting list, attend this safe and non-judgemental setting where nothing is off the table to discuss.  $60 for a 4 week block of sessions on Mondays 7.00pm-8.00pm or Fridays 2.00pm-3.00pm.
Something for the kids…
Baby and children's yoga with Melinda is an exciting new addition to what is offered at the Centre.  Check the program for more details of session times and age groups.
Something else…
Relax and unwind in our Yoga classes or Meditation sessions. Midweek yoga from 9.30am – 10.45am on Wednesdays is only $126 for 9 weeks in Term 2.  Meditation is on Tuesdays from 11am – 12 noon and $117 for the term.  Meet new friends to explore the neighbourhood with in our free Friday morning walking group.
There is so much more to discover at your Neighbourhood Centre.  Our classes are flexible, welcoming and fun, and most can be joined at any time during a term if positions are available.  (A pro-rata charge will be calculated for the remaining weeks.)
Hard copies of the term program are always available at Reception and the digital version is available on our website as soon as it is ready.  If you would like every edition emailed, please let us know by dropping a line to: program@bncinc.org.au.
Power Savings Bonus
The Victorian State Government's Power Saving Bonus has been extended.  This one-off $250 payment helps eligible Victorians experiencing energy bill stress.  To be eligible, you must be receiving a government Concession payment such as the pension and have an electricity bill in your name.  It can be claimed once per household.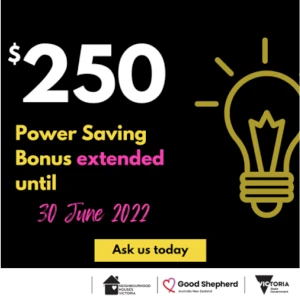 Email psb@bncinc.org.au or phone the Centre and we will help you access this assistance. Bookings are not essential but may help you to avoid a wait if nobody is available to help straight away. Each appointment takes less than 15 minutes.
BNC Children's Room
Our Children's Room continues to be a favourite for families in the area as children often attend Playgroup with parents, grandparents or carers and become familiar with the room for progression on to Occasional Care.  Occasional Care is an alternative to long day care Centres and we're very proud of our flexible and educational program.  Our qualified and experienced staff are skilled with multiple strategies to bring out the very best in children, and with smaller groups can give each child more attention and personalised care.  Sessions are family grouped, meaning siblings stay together.  The licensed program also attracts Child Care Subsidy (CCS) benefits to assist eligible families with fees.
The new longer session of Occasional Care (8.30am-4.30pm) on Thursdays is proving to be a success.  Children have a rest time to ensure they are not strained by a full 8-hour day.
You may see a new face when you pick up your child as Phoebe joins our Children's Room team.  Phoebe is almost finished with her Primary Education degree and assists in a casual capacity to ensure there are always correct staff ratios in the room.
We are interested in adding another casual or potentially a permanent, part-time staff member, so if you or someone you know have qualifications in early childhood education (or equivalent), or you're working towards qualifications, please get in touch with us for a chat.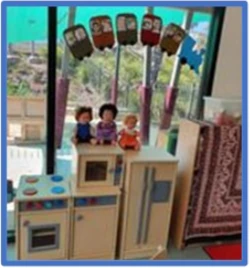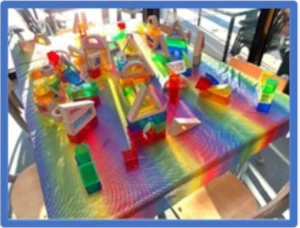 Our Occasional Care and Playgroup lists are quite full, but there is always a bit of movement at the start of the year and so there is still availability in all sessions, so get in touch now to secure your place.  Playgroup runs on Monday and Tuesday mornings with three different times and Occasional Care is on Thursdays and Fridays with a dedicated 3-Year-Old program running on Wednesdays. Our friendly staff are here to answer any questions and help you choose sessions that work for you.
Please note that we are following all mandated directions for Covid safety and double vaccination status is still currently required to enter the Centre.
Add us on Facebook and Instagram for the latest updates. We welcome your enquiries.
Stay connected!
Beaconsfield Neighbourhood Centre
8 O'Neil Road, Beaconsfield
Phone: 8768 4400
Email: contactus@bncinc.org.au
Web: www.bncinc.org.au