The Beaconsfield Football Club is keen to get back to footy action after another Covid interrupted year in 2021. We look forward to welcoming all our locals to Holm Park Reserve as our club embraces a new competition where we will be part of Eastern FNL 1st Division. There will be 9 new clubs to take on and learn colours and ground locations etc but we look forward to the challenge.
An undoubted highlight of the 2021 presentations was the bestowing of Life Membership on Stacey and Hugh Matthews in recognition of their tremendous service to our football club since they first became involved with our Juniors in the early 2000's. They continue to be great contributors, often being amongst the first to arrive on match days and still working long after the matches are completed. Congratulations, Stacey and Hugh on this well  deserved honour.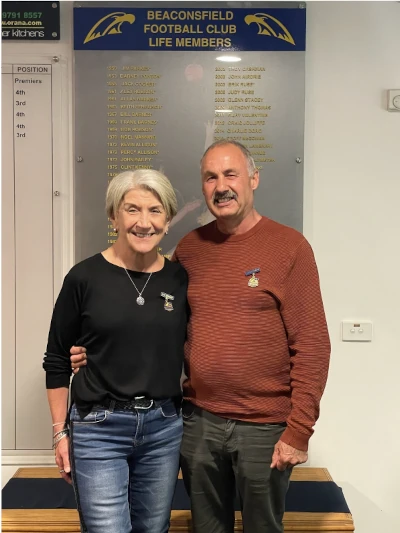 The club's season commences with a home game against South Wantirna on Sat 2nd April and we will also be hosting a reunion gathering for our 2001 Senior premiership team at this match, after it was originally planned to be held late last season.
Practice matches are scheduled on Sat 12th March (vs Noble Park); Sat. 19th March Twilight match (vs Cranbourne) and Sat. 26th March (vs Mitcham) all at Holm Park Reserve and our canteen and Canbar will be in operation.
Memberships in various categories are now available and this is a great way to support the club and get to meet fellow Beacy locals. Contact Mark Hornstra (0418 330 083) for all details.
Finally, we have been most appreciative of the wonderful sponsorship support from so many local businesses and if you would like to be involved as we welcome many new Eastern FL clubs to Holm Park in 2022, please contact our Sponsorship Manager Scott Hilton on 0455 963 179.
Go Beacy.
Flashback 20 years
You can find us at:
Website: www.beaconsfieldfc.com
Facebook: @beaconsfieldfootballclub
Email: secretary@beaconsfieldfc.com