A Beaconsfield man said he was "humbled" to be appointed a Member of the Order of Australia and have his extraordinary contribution to the Aerospace and Defence Markets formally recognised.
Neil Matthews, 68, said he was "humbled" to receive the award for his "significant service" to aerospace component repair technologies.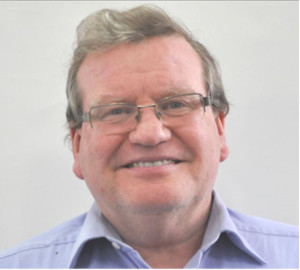 Neil and his wife Joanne (Jodie) moved to Beaconsfield in 2015 after 27 years in the Dandenong Ranges and thoroughly enjoy the "village life in Beaky". They share their Beaky life as much as possible with their three daughters their partners and their 5 grandchildren.
Neil has been RUAG Australia's Head of Research and Technology, since 1995. RUAG Australia, based in Bayswater, uses engineering expertise and accredited manufacturing, maintenance and repair capabilities to provide support to both Defence and Aerospace markets.
"Effectively we're able to recover metal components by restoring them using metal powders and it's unique in the fact that we don't use heat to consolidate the powder. It's a novel process," he explained, when asked to describe his line of work.
"It's innovative as much as it's additive technology. We add metal back onto components that have been damaged."
Neil has always had a passion for aerospace, likely due to the 43 years he spent as a member of the Australian Defence Force, which he joined in 1970.
"When I left school as a Queenslander, tertiary education wasn't free and my family background was such that they could not afford to send me to university, so I applied for a scholarship to join the Air Force," he recalled.
Neil soon completed an engineering degree at RMIT University and post graduate studies at Cranfield University in the United Kingdom which provided a real-life insight into working with "leading edge technology".
"That gave me a great passion for leading edge technology. It gave me a thirst for aerospace, a thirst for innovation and knowledge and the confidence that we can push boundaries if we put our mind to it," he said.
Throughout his impressive career, Neil has held positions as RUAG, formerly known as Rosebank Engineering, senior engineering manager. He was also involved in the research and development of Cold Spray as an additive material repair technology.
"What we've been able to do in Australia is develop a body of science that has allowed us to safely use the technology for aircraft repairs. We've saved our government well over $10 million in assets, but more importantly, we've been able to provide critical support when it comes to aircraft availability," he said.
"It's a passion I have in terms of innovation and technology. I guess I have been able to go where "no man's gone before" in additive technology which has positioned  Australia as world leader. We're now internationally acknowledged and renowned."
Neil currently sits on a number of advisory boards including the Advisory Board of the Centre of Additive Manufacturing and has completed significant research within his relevant field of expertise.
Between 2012 and 2018, he was a researcher for the Australian Research Council within the National Competitive Grants Program, and prior to that was an industry research leader for the Defence Science and Technology Group.
Neil said he was humbled to have his contribution to society officially recognised with the award, but said he's never sought recognition.
"I don't do what I do for the awards," he said.
"I'm very proud but also very humbled. It's something that, in what I do, wasn't expected. I certainly wasn't aware of my nomination. I believe that my work colleagues supported by academia, research and Defence, have felt it was worthwhile to put my name up for recognition. Again very humbling.
"I must admit from my perspective, I'm quite humbled and not sure I'm deserving of the award. This work is something I love to do, and the reward is nice, but the words of congratulation I receive are cherished just as much as the award itself."