Phone 8768 4400
At the time of writing this article, all of Victoria has just come out of a snap "circuit-breaker" lockdown.  We're thrilled to resume our Covid-Normal operations after the 5 days because our members have been flooding back for 2021 and we were just getting used to the happy, busy vibe of a new year.
Hundreds of families have taken advantage of our "Free February" membership offer.  If you haven't yet signed up for your annual membership, the savings will continue with half price membership fees in March.
With some new and some familiar programs scheduled for Term 1, there's something for everyone to enjoy.  Pop in soon and reconnect with your community.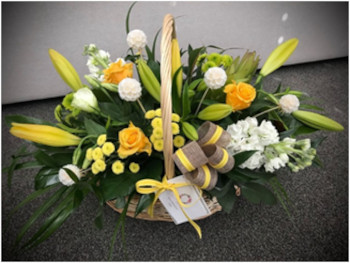 The ever-popular Floral workshops with Sharon are already booking up fast for the scheduled sessions in March.  Choose from "A Splash of Colour", "Autumn is in the Air" or "Easter Basket" arrangements on a Thursday evening from 7pm for just $45 per class and your resulting masterpiece to take home.
We welcome Anna as our new Line Dancing tutor and with a bulging class in the first two weeks, we have split the session into two and start with beginners for $6 from 9.30am-10.20am and then a standard class for $7 from 10.20am-12.00 noon.  You may join in both sessions for $10.
Our new Ballroom/Latin Dancing for Beginners class has taken off with both singles and couples enjoying the fun on Tuesday evenings from 7pm.  There is also a new Dancercise class on Thursdays to improve your fitness while having some much-needed, fun me-time.
Our Patchwork ladies have been turning out simply  gorgeous work when they meet up on Thursdays at 9.30am like Bev's masterpiece below:
Table Tennis has been bursting at the seams with a friendly bunch of players coming to have a hit and enjoy socialising between games.  Mondays from 1pm and Thursdays from 12.30pm.
Keep your eye on your letterbox for our Term Program which is delivered prior to the start of every term.  There's much more going on than we can fit into this  article including our social, craft, exercise and cooking classes.   Email program@bncinc.org.au to make further enquiries or book into a course.
The digital version of our program is available on our website as soon as it is ready and if you would like it emailed, please let us know by dropping us a line to contactus@bncinc.org.au.
In other news, our most fabulous and inspirational Committee of Management member, Gwen Neve, recently celebrated her milestone 90th birthday.  We could easily have said 80th or even 70th milestone birthday and nobody would bat an eye.  She is a dynamo who gives so much to our Centre and the community.  We continue to wish the happiest of days for Gwen, for her birthday and every other day too.
Our awesome, long-serving Administration and Weekday Venue Hire Officer, Maria Tucci, is taking some well deserved long service leave and then upon her return, she will be starting the new adventure of retirement.  Maria plans to spend more time with her new grandson. We welcome a very capable replacement for her position in Sally Coates.  Sally is fitting in perfectly with her warm and friendly manner and she has hit the ground running.  We will miss Maria terribly, but she assures us that she will not be a stranger.  We may even twist her arm into some volunteering work…
We've been grateful to welcome some new volunteers to the Centre this year.  With a range of opportunities to fit our needs and yours, we invite expressions of interst for those who may have a little time they want to throw at a community organisation.
BNC Children's Room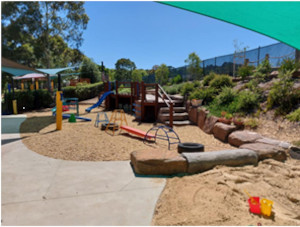 We were very lucky and grateful to have one of our Committee of Management members, Alyssa Jones, and her family volunteer their time over the school holidays to stain and make some repairs to our playground equipment. Thanks to the Cardinia Shire Council, our sand and soft fall has also been all topped up and so the Children's Room playground is looking fresh and new again.
We're looking forward to a new shade sail in the next few weeks to provide some much-needed shade until the new trees mature.  There will also be a new fence coming in the next holiday break.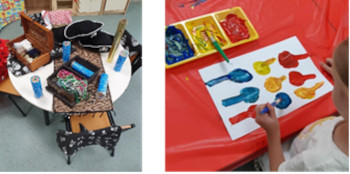 There are still some places available in our childcare sessions.  The Three-Year-Old program runs Mondays 12.30pm-3.00pm, Wednesdays 8.30am-1.30pm and Fridays 1.30pm-4.00pm.  Occasional Care sessions are on Thursdays 8.30am-1.30pm and Fridays 8.30am-12.30pm.  Mix and match with any combination of multiple sessions to suit you and your child's needs.
Auslan sign language has been a fascinating addition to our three-year old program for years and our talented educators are now sharing their knowledge during Occasional Care sessions too.  There are documented benefits of teaching Auslan to verbal children including:
Increased brain function and memory
Increased engagement and enjoyment in communication
Increased inclusiveness and cultural awareness
Sensory and fine motor experience
Contact us to chat more about the programming that is engaging all of our children attendees and helping their learning journey to be rich, fun and colourful.
Our Playgroups are getting going again and there are still a few vacancies available.  Spend some quality time playing with your child and meeting other local families on Monday and Tuesday mornings from 9.00am.
The Children's Room is available to hire on weekends for your next child's party.  Age appropriate to about 7 years and with reasonable rates, this is an affordable and different way to celebrate a birthday.
Add us on Facebook and Instagram for the latest updates.  Stay safe and well!
Beaconsfield Neighbourhood Centre
8 O'Neil Road, Beaconsfield
Phone: 8768 4400
Email: contactus@bncinc.org.au
Web: www.bncinc.org.au