Beaconsfield Tennis Club Committee
On the 18th January we welcomed the new Beaconsfield club committee:
President -Andrew McKenzie-Smith
Vice President-Bronwyn McCormick
Secretary-Maurice Potter
Treasurer-Barry Fletcher
Mid-Week Ladies-Kerry McKean
Junior Co-ordinator- Mark Gelderbloem
General Committee -Josh McCormick, Jenny Ponter, Anja Potter, Adrian Walsh
A big thank you to the outgoing committee for all your hard work and commitment during such a turbulent year. A special thank you goes to Dave van der Koogh who will be leaving us for better weather up north. Thank you so much for your hard work as Vice President and all-round commitment to the club. You will be greatly missed.
Fees
Special Covid-19 rates will apply for the next six months from March 1st to August 31st. Family rate of $120 for the six months plus $20 for a key if required. Individual rate will be $60 for six months.
Casual Court Hire
$10 per court (per hour)
Court hire is available at the Beacy Flake Fish & Chips shop. Beaconsfield Shopping Plaza, Shop 2, 55 Old Princes Highway, Beaconsfield. A court key will be issued when a deposit of $20 is paid and will be refunded on return of the key on the same day. The synthetic grass courts are available for hire only when not in use. Competitions and coaching takes precedence.
Open Day 2021
On January 16th Beaconsfield Tennis Club ran an annual open day as well as a junior singles tournament. There was a fantastic turnout with 40 juniors entering the tournament, where players came from as far as Bairnsdale to play. This was a huge success, with many of our juniors matching up very well against players from other clubs.
Coaching 2021
Programs being offered this year are as follows:
Red Ball Program- Ages 4 – 6
Orange Ball Program- Ages 7- 9
Green Ball Program – Ages 9 and up
Squad Program – Competition and tournament players
Cardio Tennis – Adult
Adult Group Lessons
Private Lessons
Interested? Call Paul Rowbottom on 0412 682 569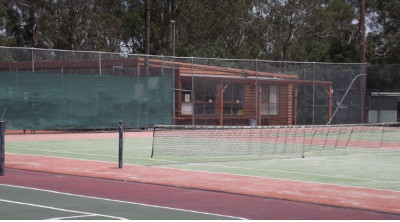 Competition Play Available
Our club provides a number of opportunities to play competitively interclub or socially. These are:-
Interclub – club membership is required to participate.
Juniors interclub – Berwick and District Tennis Association – Saturday and Sunday mornings – contact Mark Gelderbloem 0414 501 485.
Adults interclub – Waverley and District Tennis Association – Saturday afternoons – contact Adrian Walsh 0425 747 615
Ladies Midweek interclub – Dandenong and District Tennis Association – Tuesday/Wednesday mornings – contact Kerry McKean 0419 382 477.
Inhouse – social competition open to members and non-members
Wednesday Night, mixed social all standards and ages– inhouse at Beaconsfield and Officer courts – Wednesday night – Maurice Potter 0437 759 793.
Thursday night  – men's social all standards and ages – inhouse at Beaconsfield – contact Gavin Baxter 0418 107 363
Veterans Sunday morning, social all standards – inhouse at Beaconsfield – contact Les McDonald 0409 435 121.
Government Restrictions during COVID-19 lockdowns
During Government restriction announcements during 2021, courts will remain closed and locked during the announced period. Courts will not be available for hire during lockdown periods and we ask all members to stay away from the courts during lockdowns.
At all other times, we ask members to apply the following rules:-
Before accessing the courts please register your presence using your mobile phone to scan the QR code located at entrance gates and elsewhere in club grounds. Follow the prompts to record your access.
If the operation does not work, go to website https://visitsafe.at/beaconsfieldtennisclub and record your contact details.
Otherwise email your name, date and expected time of attendance to our Secretary mauricepotter@bigpond.com.
These processes will enable us to contact you should an infection occur at the club, for your own protection and to meet Government guidelines.
Please bring your own sanitiser/antiseptic wipes to clean gate latches and locks before entry (to protect you) and after use to protect others. Also cleanse your hands before and after use of court baggers and line sweepers. Avoid touching surfaces and cleanse any surface that you do touch. Use racquets to change score boards.
Club house toilets are available for use when open. A limit of 26 people maximum are allowed within the clubhouse at any one time.
Maintain social distancing at all times – 1.5 metres apart. Face masks are required at all times within the clubhouse and also outdoors when 1.5 physical distancing cannot be maintained.
Bring your own full drink bottles as club drinking fountains must not be used.
No social gathering before or after play (get in-play-get out).
No handshaking, and wash your hands before and after play.

Main Contact Details:
All General Queries Ph: (03) 88205853
Secretary Ph: 0437 759 793 Email: mauricepotter@bigpond.com
Facebook: Beaconsfield Tennis Club Community
Mail: P.O. Box 132,  Beaconsfield,  VICTORIA, 3807
Website: https://www.tennis.com.au/beaconsfieldtc/