After a 2020 year like no other for our community and our club, where it was the first year since 1947, when Beaconsfield FC resumed after the Second World War, that our town hadn't competed on the football field, we can't wait for the 2021 season to get underway.
Our most recent on-field action was last March and once again we enter this new season full of optimism with a number of new recruits and excellent numbers on the track in both our Men's & Women's teams.
Our coaching panel headed by Senior coach Mick Fogarty, are all on board, and we have had wonderful support from a number of local businesses who pledged their commitment through our 20/21 COVID Club. Any local businesses who would like to also be involved with the vibrant local football community can contact our Sponsorship Manager, Scott Hilton on 0455 963 179 or email sponsorhip@beaconsfieldfc.com
Beaconsfield FC have already experienced some joy in 2021 with another of our Beacy Youth Girls in Tyanna Smith making an auspicious debut in the AFLW with St Kilda.
She joins an impressive line-up of Beaconsfield FC graduates who now feature in our AFL/VFL graduates display alongside the likes of Barry Allan and Michael McKenna and of course Ellie Blackburn, who were the early trailblazers for talented local footballers from our area making it to the big time.
Our club has Pre-season practice matches scheduled at Holm Park Reserve as below:
Sat 13th March vs. Noble Park (Eastern FL Premier League) Seniors to commence at 4pm
Sat 20th March vs. Ajax
Sat 27th March vs. Norwood (Eastern FL Premier League)
Our season commences on Sat 24th April when we host Narre Warren in the Annual Anzac Day match where our Seniors will wear the Anzac tribute jumper.
A highlight of the year will be on Sat 10th July at Holm Park when we will hold a Black & Yellow celebration of our 1980/81 Premierships. This is an opportunity to welcome players, officials & supporters from this great era, along with all those who have been a part of our club's history. We will play our oldest rivals in Cranbourne on this day 131 years after our first meeting.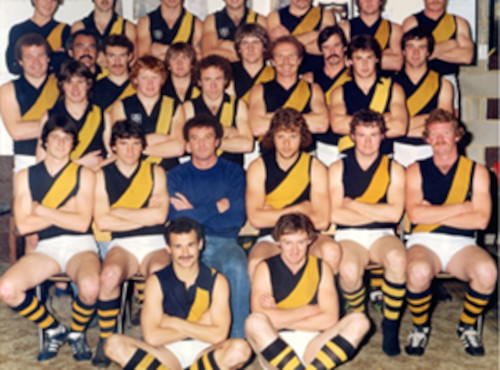 On a sad note, the club lost one of our greats in legendary coach Jim Read, who passed away suddenly in October. COVID restrictions meant we had to wait until recently for family, friends and so many of his players from Beaconsfield to come together to share a tribute day to Jimmy. There were also quite a lot of his St Kilda teammates from the 1966 premiership team in attendance for what was a most fitting & emotional farewell to a legend.
Our social rooms are open for meals on Thursday evening, so all are welcome to come along, watch training & enjoy our great local community facilities with family & friends.
Remember you can keep up with all club news on our Beaconsfield Football Club Facebook page.