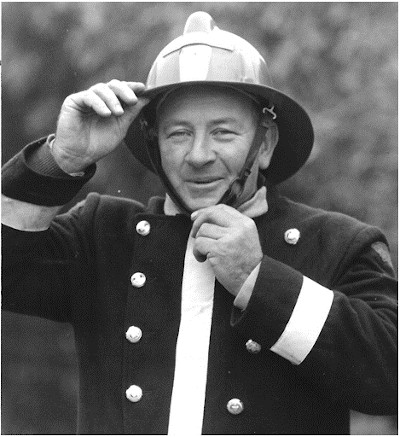 The Bob Burgess Reserve was named in recognition of local identity Bob Burgess who faithfully served the Beaconsfield Fire Brigade for over 30 years. The reserve is a public recognition to remember Bob's outstanding and selfless service to the community. The reserve is located by the Cardinia Creek at the intersection of Princes Highway and Beaconsfield Emerald Road, Beaconsfield.
Robert James (Bob) Burgess was born in Berwick in 1938. His family home was "Fairwood Park" in Beaconsfield/ Officer. Bob and his 6 siblings grew up on the family property, he attended Officer Primary School and Dandenong High School.
Bob joined the fire brigade as a teenager and would ride his bicycle to attend meetings. Bob gradually worked his way through the ranks, communication officer, lieutenant, apparatus officer and 20 years as Captain. He represented the brigade on the Regional Council as delegate from the Berwick Pakenham Group becoming the 1st Deputy Group Officer. His extended involvement included the Fire Prevention Committee, Regional Training Committee, and President of the Region 8 Victorian Fire Brigades Association.
Bob received Life Membership from the Victorian Rural Fire Brigade Association, Pakenham Group, Beaconsfield Fire Brigade and it was his great delight to receive the National Medal in 1987.
Bob married Bev in 1960, and were blessed with four children, Leonie, Glenys, Judith and Gregory. In 1986 Bob and Bev were awarded the Telecom Award for Community Service, recognising their involvement in children's activities.
Bob was employed in numerous occupations before working for the State Electricity Commission of Victoria for 31 years. He was then employed at St Francis Xavier College as a bus driver and maintenance man. The staff and students all appreciated Bob's wonderful contribution to the school community and in recognition they have retained his memory by planting a tree and naming a school house after him, "Burgess".
Bob and Bev gave to the community in numerous ways, Bev was a base operator and communications operator for the Beaconsfield Brigade. She teaches line dancing at the Beaconsfield Community Complex and has  contributed to the Beaconsfield/ Officer panel of the Cardinia Embroidery canvas work which includes "Fairwood Park" the Burgess family home.
Sadly, Bob died in 1993, aged 55. The Country Fire Authority in recognition of Bob's outstanding and significant contribution have two awards in his honour, "Bob Burgess Fire Fighter of the Year Award" and Region 8 "Bob Burgess Memorial Award". The criteria for both awards is very high, with the stipulation that it only be presented if a person is considered highly deserving and worthy.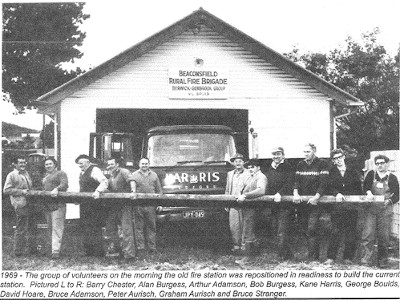 Bob is remembered as a humble, respectful and quiet man with a great sense of humour. The reserve is a wonderful space to enjoy as Bob loved the outdoors and particularly the Cardinia Creek.
Researched and Written by Penny Harris Jennings and Ann Taylor 2020