Beaconsfield Tennis Club History-Update
Following on from our last article seeking history of our club which indicated establishment in the 1960's, a former club member Mr. Allan Witham has supplied the following information indicating establishment was before the 1930's.
Allan was born in 1930 and remembers his mother playing for the club while he was a young child and was taken to the court as a baby in his pram and looked after by more senior kids. In those days a single court was located on the corner of Railway Avenue & Old Princes Highway and adjacent to the then Congregational (Uniting) Church.
Originally asphalted and fenced with chicken wire, the surface deteriorated over time and due to lack of funds. In the war years the asphalt remains was chipped off by his older brother Bob and the court became gravel and sand. Allan and his family lived two doors up from the court and it fell to him to sweep these which were done fortnightly.
The court had a cement sheet clad pavilion originally open fronted and was made lockable about 1945/46. With no power, the kettle was boiled on an outside fire. Also with no toilets, those at the Church were utilised.
Allan can remember as a young boy, two derelict asphalted courts located on the north side of the
highway east of the Central Hotel, roughly where Aldi store is now located. The exact location was from west to east, Central Hotel, Old Hall, derelict courts, football ground (former Beaconsfield home ground), remains of old Berwick race track, Lyall Avenue, Primary School. This would indicate formalised tennis in Beaconsfield was played well before 1930's.
Competition in the 1930-50's saw teams comprising all ages, with Beaconsfield playing other teams from Nar Nar Goon, Koo Wee Rup, Cardinia and other small towns in the area. 1930-50 team members that come to Allan's mind are his family Norma, Bob, Jim with Alva Cole, Jeff Tivendale, Rupert Richardson, Bill Johnson, George Bauld, Grogans (brother and sister), Angis girls and Pattersons (three girls, one boy).
Our thanks to Allan for filling in our history, the originals being lost in Ash Wednesday Fires. If anyone can add to this we would much appreciate hearing from you.
In-house Social Competitions
Our club extends an invite to both members and non-members to join our social competitions. Contacts are listed below.
Wednesday night is a mixed competition and in conjunction with Officer Tennis Club fields around 60 – 80 players depending on the season. Our winter season comprised 12 teams and concluded last September with premiers "Vertigo" team (Josh Thomas, Andrew McKenzie-Smith, Mike Jaremczuk, Marina Rankin, Leanne Bowman). While our summer competition is now mid-season feel free to join now.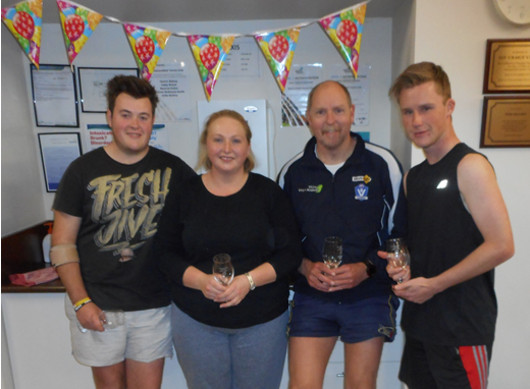 Thursday night is a men only competition for both A and B grade players. This is a little less structured so players are welcome at any time. Just call at the courts starting 7:30pm.
Our veterans competition has been running since 1981 and play early Sunday mornings. Call in at the courts early Sunday mornings for a game or contact our coordinator as below.
Court Lighting
We are currently working with Cardinia Shire to upgrade our court lighting which is somewhat dated being over 40 years since installation.
Club Membership
We welcome all to our club and with membership renewals due 1st July, it is an ideal time to join our club if you have been considering an active friendly club.
Our club participates in interclub competitions including Junior, Senior, Mid-week Ladies and Pennant within Dandenong and District, Berwick & District and Waverley Tennis Associations and Pennant.  As mentioned, in-house social competitions on Wednesday and Thursday nights and Sunday mornings are also conducted for both members and non-members.
Membership details can be found on our web site or enquire with one of our below listed contacts.
Club Contacts
General Enquiry
President:                          0417 096 628
Secretary:                          0437 074 287
Treasurer:                          0407 990 482
Web: beaconsfieldtc.com.au
Social Competition
Wednesday Mixed:         0437 759 793
Thursday Men:                 0416 147 771
Sunday Veterans:            0409 435 121
Inter Club Competition
Junior Comp:                    0425 735 080
Senior Comp:                    9796 1953
Mid-Week Ladies:            0419 382 477
Coach:                                0412 682 569