Born 7th January 1944, passed to rest 22nd December 2017.
Leslie Jones Conkie passed away peacefully with his three daughters by his side aged 73 on what would have been, his wife Gabriele's 71st birthday. He had been dealing with various health issues over the past few years.
Leslie (or Les as he was known), was born in Dumbarton, Scotland on the 7th of January 1944. He was the youngest of 7 children, and was an uncle three times before he was even born. Les left school at the age of 15 and worked for a local fruit merchant and learning to drive a lorry. He immigrated to Australia with his parents by boat in 1964 at the age of 20. They resided in Doveton and were joined by the rest of the clan over time.
Les started work in Australia labouring at pit building and developed his own drainage business for new subdivisions. He met his future wife after being introduced by a fellow worker, who soon became his father-in-law. After a date at the beach, and listening to records, Les and Gabby became the first couple to be married at the Doveton Baptist Church on the 15th of January 1966. They then continued living in the Dandenong area, where their first two daughters Susan and Fiona were born.
In 1976 the family moved to the property in Beaconsfield, living in a caravan while building the family home. Shortly after moving in, their youngest daughter Elke was born.
Les grew up with a love for the game of soccer. He enjoyed playing in his younger years and later watching any matches that were televised live. Over the years others would join Les in the wee hours of the morning to see the FA Cup final.
Another interest of Les' was his Clydesdale horses, as they reminded him of his father.  He was a regular competitor with his Stallion James at the local shows, Berwick, Warragul and Pakenham over many years. James even went to work with Les on a cold winter's day to move stormwater pipes as the truck was bogged. This was real horse power.
As Les continued with his drainage business from home, there were many local dams that were constructed or enlarged in the area. All the old neighbours knew who was driving down the road in various vehicles. And as they left the area, some of these relationships continued, as well as new ones being welcomed. He would often stop for a yarn along the way or at the local shops. It has been said, "these yarns will be missed by a few locals".
Les witnessed many changes in the area over the last 40 years and had a few of his own. He was creative in coming up with recycling off cuts of wood and turning it into mulch, or kindling. He was happy for others to come and collect off cuts of wood and share their ideas too, of what they had made.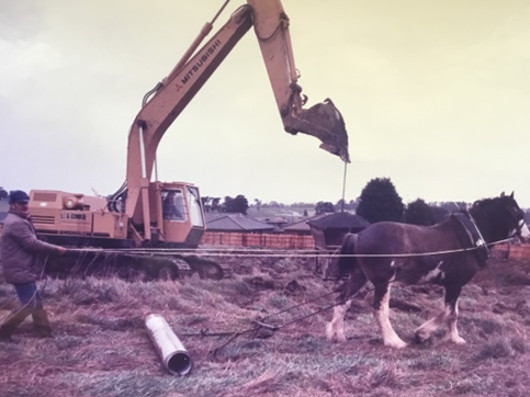 With Scottish blood running through his veins, Les loved the sound of the bagpipes. He enjoyed the sound of neighbouring pipers practicing and holding fundraising events for the Berwick Pipes and Drums on his property and taking Elke to practice sessions. There were many events hosted by Les and Gabriele on their property, house or sheds that were enjoyed by many family and friends over the years. Their family plan to continue the tradition of their annual family gatherings. Santa made many visits to the area over the years too.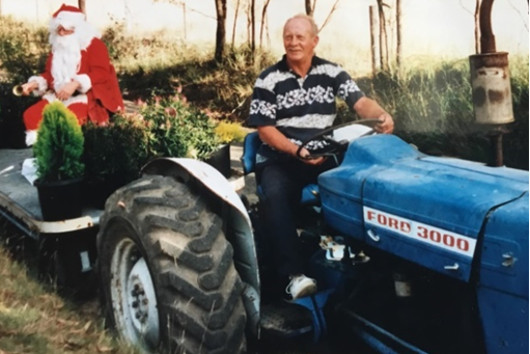 There were a few hundred people at Les' funeral at Bunurong Memorial Park just after Christmas. They were treated to the sound of a lone piper at the end of the service. He was farewelled by family, old local Beaconsfield folk as well as new ones, and some changing holiday plans. It was like an old Beaky reunion…
Les will be remembered as a devoted husband, father, father-in-law, grandfather to 7, a son, brother, uncle and friend to many. Thank you for our memories.
Compiled by Family and Friends