Service number 10803
ORIGINAL NAME PLATE C.1929
In 1910 Thomas married Alice Maud Larkin. Returned to Australia on the 28th June 1919. Discharged on the 14thDecember 1919.
Thomas and Maud lived in Beaconsfield until 1931. They then resided at 277 Dandenong Road, Malvern.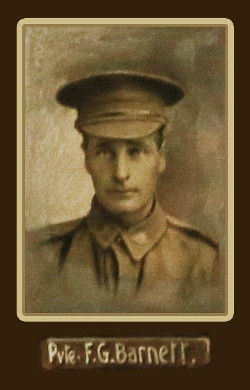 Died on the 9thNovember 1960 at St Kilda, Victoria.
Funeral service on the 11th November 1960, buried at Springvale Botanical Cemetery.
The Argus (5th June 1911)
"Flights from Fire -Escapes By Night.
Dressing in the Bush – Beaconsfield Upper, Saturday.
On Friday night a cottage owned by Mrs Larkin, and built on the Quamby settlement at Beaconsfield Upper was destroyed by fire. Mr Barnett, a son-in-law and two youths were staying at the cottage, and retired to bed early. When around  half-past 8 o'clock the fire had such a hold that the occupants had just time to snatch up their clothes and escape. They dressed in the bush."
| | |
| --- | --- |
| Name |  BARNETT, Thomas Frederick |
| Service Number |  10803 |
| Rank |  Wheeler |
| Roll |  3 Divisional Train, Nos 22-25 Companies, (Army Service Corps) & 1 Reinforcements, (includes Headquarters), (May-June 1916) |
| Conflict |  First World War 1914-1918 |
| Embarked |  3rdJune 1916 |
| City |  Melbourne |
| Ship |  HMAT Persic A34 |
| Age |  27 years |
| Birth Place |  1887, St Kilda, Victoria |
| Father |  Samuel Barnett, Derby Road, Caulfield East |
| Mother |  Kate (Belbin) Barnett |
| Religion |  Church of England |
| Occupation |  Carpenter |
| Residence |  Mrs Alice Maud Barnett, C/O Mrs Bond, 146 Napier Street, South Melbourne |
| Enlisted |  23rdJuly 1915, Melbourne, Victoria |
| Height |  5 feet, 6 inches |
| Complexion |  Fresh; Eyes- Blue; Hair- Brown |