Service number 543
ORIGINAL NAME PLATE C.1929
Charles Morrel Armytage married on the 14thDecember 1914 to Margery Pamela Tustin.
On 8thJune 1915 Ada Armytage writes to the Officer in Charge at the War Office regarding her nephews. Ada writes that all correspondence regarding her nephews be forwarded to her as her brother, the father of Charles and Clive, is suffering from a heart "affection".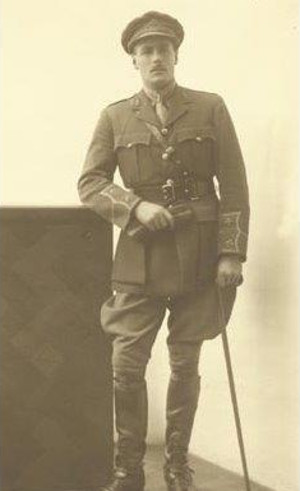 On the 14thAugust 1915 Charles contracts typhoid in Alexandria, Egypt.
Charles is discharged on the 21stOctober 1916 to serve in a temporary commission in the Special Reserve, Royal Field Artillery.
Died on the 18thSeptember 1960.
Buried in September 1960 at Dunkeld Cemetery, South Australia.
| | |
| --- | --- |
| Name |  ARMYTAGE, Charles Morrel |
| Service Number |  543 |
| Rank |  Private |
| Roll |  4 Light Horse Regiment (October 1914) |
| Conflict |  First World War 1914-1918 |
| Embarked |  19thOctober 1914 |
| City |  Melbourne |
| Ship |  HMAT Wiltshire A18 |
| Age |  20 years |
| Birth Place |  14thMay 1894, Melbourne, Victoria |
| Father |  Charles Norman Learmouth  Armytage, South Yarra, Melbourne |
| Mother |  Leila Matilda Buckland (Halloran) Armytage |
| Religion |  Church of England |
| Occupation |  Jackaroo |
| Residence |  "Alta Vista", Punt Road, South Yarra |
| Enlisted |  19thSeptember 1914 |
| Height |  6 feet, ½ inch |
| Complexion |  Fair; Eyes- Blue; Hair- Light Brown |