Service number 19
ORIGINAL NAME PLATE C.1929
James Randle Adamson was awarded the Military Medal for gallantry and devotion to duty during the operations at Bellicourt on 29th September, 1918. Discharged on the 15th August 1919.
On the 23rd December 1919 James married Ethel Sedgam in Essendon, Victoria. After the war James continued to live in Beaconsfield and was employed as a carpenter/builder.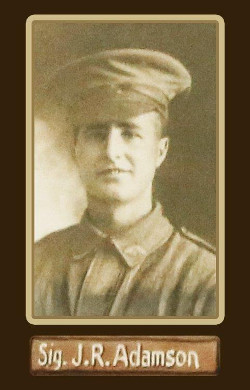 Died in March, 1958 at Beaconsfield, Victoria. Funeral service was on the 17th March 1958, buried at Berwick Cemetery, Victoria.
South Bourke and Mornington Journal (16th January 1919)
"Signaller JR Adamson, son of Mr J Adamson, J.P. of Beaconsfield has been awarded the Military Medal for conspicuous gallantry at Bellicourt. Sig Adamson is identical with the left hand bowler of the Berwick team in pre-war days, a good sport and fine cricketer. He left in November, 1915, with the 29th Battalion, and has passed through every stunt that the 29th were in, unscathed. He has two other brothers on active service also – Bob, in the 13th LH, and Jack in the Army Medical. Truly a patriotic family."
| | |
| --- | --- |
| Name | ADAMSON James Randle |
| Service Number | 19 |
| Rank | Signaller |
| Roll | 29 Infantry Battalion November 1915 |
| Conflict | First World War 1914-1918 |
| Embarked | 10th November 1915 |
| City | Melbourne |
| Ship | HMAT Ascanius All |
| Age | 31 years |
| Birth Place | 15th April 1884, Petersham, New South Wales |
| Father | James Adamson, Beaconsfield, Victoria |
| Mother | Agnes Maud Mary Randle |
| Religion | Church of England |
| Occupation | Carpenter |
| Residence | Beaconsfield, Victoria |
| Enlisted | 10th July 1915 |
| Height | 5 feet, 7 3/4 inches |
| Complexion | Fresh; Eyes- Brown; Hair- Black |