Introduction
World War One was one of the most significant events of the twentieth century, claiming the lives of more than 16 million people around the world.
It was a European war caused by ethnic tensions in the Austro-Hungarian empire. The Austrians and Hungarians ruled over many ethnic minorities, for example, the Bosnian Serbs. A Bosnian Serb named Gavrilo Princip, assassinated the heir to the Austro-Hungarian throne and his wife in June 1914 as an act of displeasure with the Austro-Hungarian empire. The Austro-Hungarian empire declared war on Serbia as a result of the assassination and most of Europe took sides.
The British Empire sided with the French and Russian empires to form the Triple Entente. The Austro-Hungarian empire sided with the German empire to form the Central powers. Italy joined the Entente in 1915.
As both sides of the conflict were empires, they had colonies in all parts of the world. Soldiers from all five continents were involved in fighting in Europe and consequently it came to be called World War One.
World War One remains the greatest cause of casualties in Australia's history. In 1914, Australia had a population of just under 5 million. Around 416,800 Australians enlisted to serve in the Australian Imperial Force (AIF). More than 60,000 soldiers were killed and approximately 156,000 were badly wounded or taken prisoner.
Victoria had a population of approximately 1.45 million in 1914 and approximately 112,400 Victorians enlisted to serve with the AIF. Of this number, it is estimated around 19,000 Victorians were killed in action or later died from their wounds.
The war had a significant impact on the families of soldiers as in many cases the bread winner was at the war front. Many community fund raising activities were conducted to assist affected families. A poster from 1918 advertises one of the activities.

Timeline of World War One – Australia Goes To War
1914
28 JUNE Assassination of Austrian Archduke at Sarajevo
28 JULY Austria declares war on Serbia
1-4 AUGUST Outbreak of World War One Germany invades Belgium
4 AUGUST Britain declares war on Germany and Australia joins with Britain
5 AUGUST Australia's first shot of World War One fired from Fort Nepean, Victoria at German vessel SS Pfalz
"On August 5, 1914, a six- inch coast defence gun at Fort Nepean, Victoria, fired Australia's first shot of World War I. The warning shot on the German merchant ship Pfalz heralded the start of our involvement in a war that was eventually won by the Allies, but with a catastrophic loss of life on all sides. The passage of the years has done nothing to diminish the impact of that war on Australia. It is woven deeply into our nationhood and each year, on Anzac Day, we remember those who gave their lives to secure the freedom we cherish today."
DAME ELIZABETH MURDOCH AC, DBE (1909-2012)
14 SEPTEMBER First Battle of Ypres.
1 NOVEMBER First Australian troops sail from Australia to Egypt for training
1915
11MARCH Britain blocks German fleet
22 APRIL Second Battle of Ypres
25 APRIL Australian troops (ANZACS) land at Gallipoli
7 MAY Sinking of the Lusitania by a German U-boat
23 MAY Italy joins Allies
19 DECEMBER Anzac troops evacuation of Gallipoli
1916
MARCH Australian troops arrive in France
1 JULY Battle of the Somme at Pozieres begins
19 JULY Battle of Fromelles begins
24 JULY Anzacs capture the village of Pozieres
3-5 AUGUST The Australian Light Horseman engages in the Battle of Romani
1917
9 JANUARY Australian and New Zealand Light Horseman attack Turkish positions at Rafa
6 APRIL United States of America declares war on Germany
10 APRIL First Battle of Bullecourt begins
3 MAY Second Battle of Bullecourt
20 SEPTEMBER The Battle of Menin Road Begins
4 OCTOBER 3rd AIF Division captures Broodseinde Ridge
12 OCTOBER The Battle for Passchendaele
31 OCTOBER Australian Light Horsemen captures Beersheba (Palestine)
1918
24 APRIL Australians capture Villers-Bretonneux
4 JULY Australian-American infantry attack and capture Le Hamel
8 AUGUST Battle of Amiens begins
29 SEPTEMBER 5th Australian Division captures Bellicourt
5 OCTOBER Australians fight their last battle at Montbrehain
11NOVEMBER The Armistice is signed and the war ends.
Recruitment of soldiers
At the start of the war there were many volunteers in all countries. As the war progressed and the casualties grew, it became necessary to increase the age of soldiers accepted into the forces. In many countries conscription was introduced to ensure the armies had a steady supply of reinforcements.
Posters were used extensively to attract recruits. A couple of posters are shown below.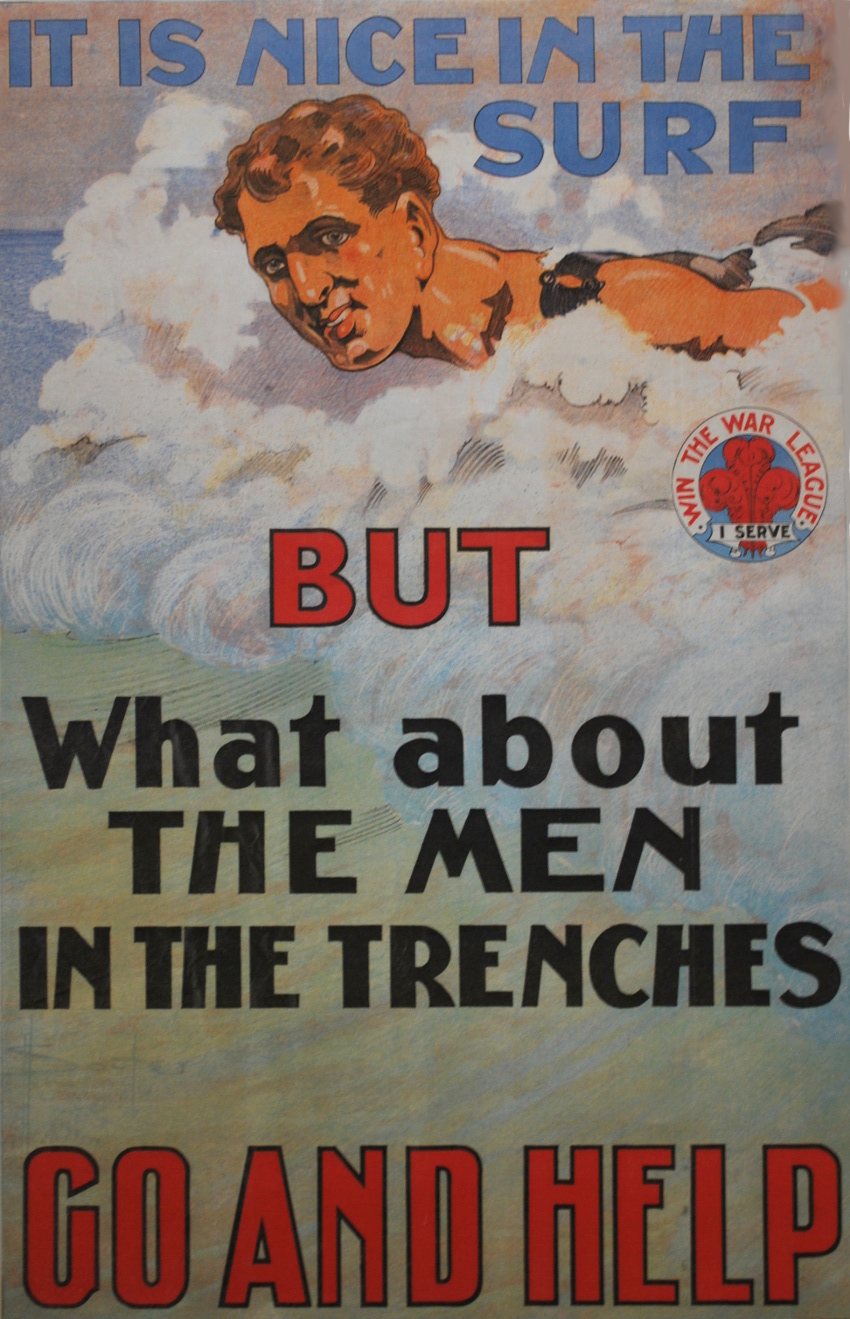 Beaconsfield's involvement
Approximately 65 soldiers from Beaconsfield fought in World War One and ten were killed.
At least two Beaconsfield soldiers were awarded military honours as a result of their service and bravery.
There are four physical memorials  and one Digital Memorial to these soldiers in Beaconsfield and details of these monuments are accessible from the menu of this Digital Memorial.