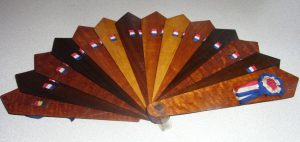 The following photograph of the Shrine was taken in the 1920's and displayed proudly on the wall of a World War One soldier's house for decades.
These items are now in the family's private collection in Beaconsfield.
On discharge the soldiers discharge papers would have what is known as the trio of medals they were awarded if qualified. Not soldiers got the star medal, it was for those that served during 1914/1915.  Everyone who served got the British War Medal and the Victory Medal. There were a few others less common medals like the Victoria Cross.
Courtesy of the Penny Harris Jennings Collection