ORIGINAL AVENUE OF HONOUR NAME PLATE C.1929
Service number 37552
On the 8thOctober 1918 Rupert was reported as wounded in action, gassed.
South Bourke and Mornington Journal (16thJanuary 1919)
"Bombardier Rupert Williams, son of Mr E Williams, headmaster of Beaconsfield State School, left England for Australia last month. The soldier was twice gassed in France, but hopes are entertained that the sea voyage will restore him to health. His only brother, Fred, was on the Barambah, but was lucky enough to escape infection, and land safely in England."
Returned to Australia on the 9thDecember 1918.
Discharged on the 16thFebruary 1919.
Rupert married Bertha, they lived in Hamilton and then Sandringham, Victoria. He returned to his occupation as school teacher.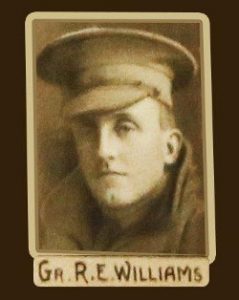 Died in February 1959 at Blackburn, Victoria.
Cremated on the 17thFebruary 1959 at Springvale Botanical Cemetery.
| | |
| --- | --- |
| Name | WILLIAMS, Rupert Ernest |
| Service Number | 37552 |
| Rank | Gunner |
| Roll | Field Artillery Brigade 27-35 Reinforcements (November 1917-June 1918) |
| Conflict | First World War 1914-1918 |
| Embarked | 9thNovember 1917 |
| City | Melbourne |
| Ship | HMAT Port Sydney A15 |
| Age | 26 years |
| Birth Place | 1890, Kilmore, Victoria |
| Father | Ernest Williams, Beaconsfield State School, Victoria |
| Mother | Louisa (Helms) Williams |
| Religion | Church of England |
| Occupation | School Teacher |
| Residence | C/O Jory's Coffee Palace, Ararat |
| Enlisted | 25thOctober 1916 |
| Height | 5 feet, 10 inches |
| Complexion | Fresh; Eyes- Grey; Hair- Brown |