ORIGINAL AVENUE OF HONOUR NAME PLATE C.1929
Service number 61018
Frederick returned to Australia on the 25thApril 1919. Discharged on the 15thMay 1920.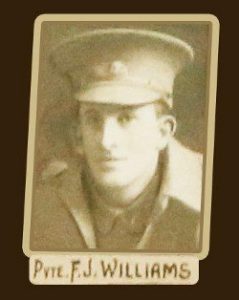 Berwick Advocate (25thJuly 1918)
"Beaconsfield.
A very successful and enjoyable social evening was held in the Beaconsfield Hall, in honour of Pte F Williams, son of our worthy state school teacher, and trooper Tom Pettit, both of whom are shortly leaving for the front. Sgt Flett and Stevens were also on the platform. The latter has seen 3 years service and has re-enlisted. President G W Martin made the presentations of wristlet watches to Pte Williams and Trooper Pettit, in a very humorous speech, the gist of which was hardly understood by the locals present. Apologies were received from Mr and Mrs Chirnside, Cr and Mrs a'Beckett, and Mr J Rosier, all of whom were unable to be present, but wished the boys God speed and a safe return. The lads in a few well chosen words suitably responded. Dancing was then indulged in until midnight when one and all went home happy if tired."
On the 17thJanuary 1919 Frederick was very unwell and diagnosed with Pulmonary Tuberculosis.
Died on the 8thMay 1929 at Kilmore, Victoria.
Buried on the 10thMay 1929 at Fawkner Cemetery, Melbourne.
| | |
| --- | --- |
| Name | WILLIAMS, Frederick John |
| Service Number | 61018 |
| Rank | Private |
| Roll | 1-17 (Vic) Reinforcements (March-November 1918) |
| Conflict | First World War 1914-1918 |
| Embarked | 31stAugust 1918 |
| City | Melbourne |
| Ship | HMAT Barambah A37 |
| Age | 23 years |
| Birth Place | 1895, Epping, Victoria |
| Father | Ernest Williams, State School, Beaconsfield |
| Mother | Louisa Ann (Helms) Williams |
| Religion | Church of England |
| Occupation | Clerk (Central Wool Exchange) |
| Residence | Beaconsfield, Victoria |
| Enlisted | 27thApril 1918 |
| Height | 5 feet, 8 inches |
| Complexion | Fresh; Eyes- Blue; Hair- Brown |