ORIGINAL AVENUE OF HONOUR NAME PLATE C.1929
Service number 5926
Alec initially served with the Military Police from the 16th October 1915 until the 7th September 1916.
On the 4th October 1917 he was hospitalised for shell shock. In Abbeville, France on the 6th August he was "gassed". On the 22nd August 1918 Alec was diagnosed as an invalid and sent to the United Kingdom, there Alec attended agricultural college in Edinburgh, Scotland. Returned to Australia on the 5thJuly 1917. Discharged on the 22ndSeptember 1919. Alec married Louisa Helena Eleanor Drysdale. After living in Beaconsfield Alec moved to Longwarry, Victoria.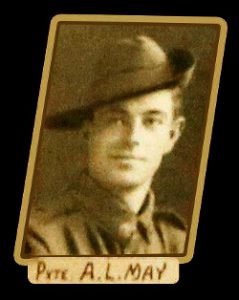 Died on the 24thJuly 1956. Buried in July 1956 at Lang Lang Cemetery, Victoria.
South Bourke and Mornington Journal (5thAugust 1915.)
"The accommodation of the Beaconsfield Hall was severely taxed on Sunday evening last, when relatives and friends of our recruits assembled to give the boys an encouraging and sincere farewell, on the occasion of their going into camp. The recruits who left were Messrs A Bragg, J Osborne, A May, J Rix, Leslie Paternoster and J Tucker; other recruits from here are already in camp. On behalf of Mrs Paternoster, Mr Roy Thompson addressed the boys and presented them each with a flag. Musical honours were accorded, followed by a hearty rendition of the National Anthem. Touching scenes marked the farewells, but one could not but feel impressed by the spirit of noble and unselfish devotion that dominated those concerned. Hearty cheers were raised as the train steamed out, and hats, flags and handkerchiefs were waved until the train was out of sight. God speed and safe return to all the boys who have given their best to the cause of honour."
| | |
| --- | --- |
| Name | MAY, Alexander (Alec) Leslie May |
| Service Number | 5926 |
| Rank | Private |
| Roll | 23 Infantry Battalion 13-18 Reinforcements (July-November 1916) |
| Conflict | First World War 1914-1918 |
| Embarked | 2ndOctober 1916 |
| City | Melbourne |
| Ship | HMAT Nestor A71 |
| Age | 24 years |
| Birth Place | 1891, Beaconsfield, Victoria |
| Father | Henry Savory May, Beaconsfield, Victoria |
| Mother | Elizabeth (Cadd) May |
| Religion | Church of England |
| Occupation | Farmer |
| Residence | Beaconsfield, Victoria |
| Enlisted | 12thJuly 1916 |
| Height | 5 feet, 10 inches |
| Complexion | Fresh; Eyes- Blue; Hair- Brown |