Service number 41213 Royal Australian Airforce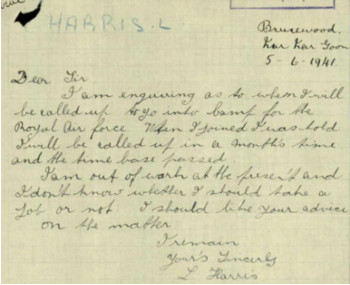 After discharge, Lionel returned to the family farm at Nar Nar Goon. After Lionel married Valerie they lived at Geelong and later settled in Maryborough Victoria.
They had at least two children, Alfred Lionel and Ronald Albert.
Lionel died on 16 June 1994 and is buried at the Maryborough Cemetery Victoria.
Name
HARRIS Lionel
Service Number
41213 Royal Australian Airforce
Rank
Leading Aircraftman
Unit
1 Embarkation Depot
Conflict
Second World War 1939-1945
Date of enlistment

13 June 1941 at Melbourne Victoria
Locality on Enlistment
Nyah West Victoria
Served
Australia
Date of discharge
22 January 1944
Medals awarded
TBC
Born
31 March 1920 at Beaconsfield Victoria
Parents
Alfred Ernest Harris and Euphemia Hart.

(In Lionel's war service records his parents are recorded as "foster".)

Married
Valerie Mary Atkins on the 16 March 1946 at the Office of Statist Queen Street Melbourne Victoria
Occupation
Cook/ chef/ Millhand/ Butcher