Service number VX1220 Australian Army
About 1930, the Grogan family came to Beaconsfield to farm.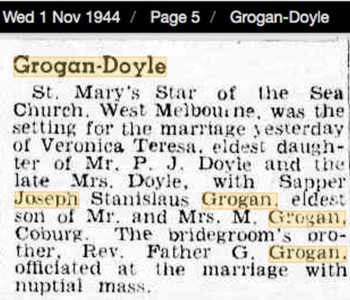 Michael and Gertrude Grogan had six children, most born in Benalla, Victoria. On moving to Beaconsfield, the children were grown and only the eldest two children Mary and Joseph came with them to farm the property known as San Antonio, Clyde Road, Beaconsfield.
The family settled into their new life. While Michael and Joseph both farmed the property, Joe, as he was called by family and friends, was also regularly employed as a Bridge Construction worker. He was also a keen cricket player and joined the local team.
This new life was short lived with the announcement of World War 2, Joseph enlisted with the Australian Army on 21 October 1939 and was "taken on strength". In November his solder training commenced at Puckapunyal and in December transferred to Ingleburn Army Camp, New South Wales.
In mid 1940 Joseph embarked from Sydney and disembarked in readiness for war, in Gourock, Scotland. Deployment to the Middle East came in late December and he was stationed there for several years until the November of 1942, when he was severely wounded; "a penetrating shell wound to the abdomen".

Joseph survived and on 9 January 1943 was assessed as "unfit". He boarded the hospital ship MS Oranje for the long journey home to Melbourne and was admitted to Heidelberg Military Hospital.
Joseph endured a protracted recovery, convalescing at numerous locations, Stonnington in Malvern, the Cottage by the Sea in Queenscliff and a hospice at Portsea.
Michael, Joseph's father realised that it would not be possible for Joseph to return and work the farm in Beaconsfield, so with the dream of a prosperous life on the land over, the family returned to the inner suburbs of Melbourne.
Joseph was eventually able to work as a French polisher in Caulfield. He married Veronica Doyle and they had three sons, Michael, John and Gerard.
Joseph died on the 5 November 1987 at the Huntly Close Nursing Home, Glenhuntly Victoria and is buried at the Melbourne General Cemetery.
His younger brother, Father Kevin Grogan, Service No NX205421, once quoted John Henry Newman:
"May he support us all day long, till the shades lengthen, and the evening comes, and the busy world is hushed, and the fever of life is over, and our work is done! Then in his Mercy may He give us a safe lodging, and a holy rest, and peace at last."
| | |
| --- | --- |
| Name | GROGAN Joseph Stanislaus |
| Service Number | VX1220 Australian Army |
| Rank | Corporal |
| Unit | 2/3 Field Company Royal Australian Engineers Headquarters |
| Conflict | Second World War 1939-1945 |
| Date of enlistment | 21 October 1939 at Melbourne Victoria |
| Locality on Enlistment | Beaconsfield Victoria |
| Served | Middle East |
| Date of discharge | |
| Medals awarded | War Medal 1939-1945 and Australia Service Medal 1939-1845 |
| Born | 18 December 1911 at Benalla Victoria |
| Parents | Michael Francis Grogan and Gertrude Lynch |
| Married | Veronica Doyle on 31 October 1944 |
| Occupation | |