Service number V12063
Harold had also served in World War One.
In 1922 Harold married Edith Florence Woods and they had three children Nancy, Gladys and Ronald.
In 1928 the family lived initially lived in Whiteside Road Officer, Harold working as a nurseryman. They then lived in Station street Officer. Harold's father John, was the Beaconsfield hairdresser.
For many years Edith had suffered from severe rheumatoid arthritis, she became increasingly unwell and sadly on the 2 February 1957 Edith died. She was buried on the 5 February at the Springvale Botanical Cemetery.
Harold eventually moved to live in Tasmania and remained there until his death on 6 August 1976. He was cremated at the Carr Villa memorial Park, Launceston.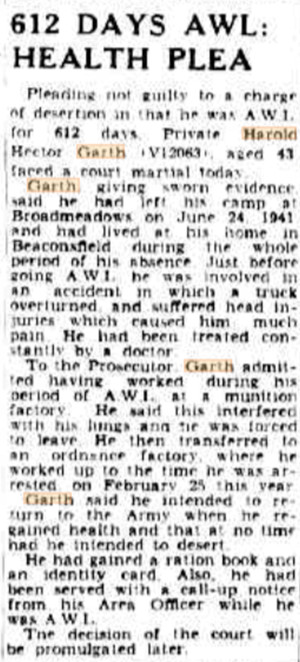 Friday 19 March 1943
| | |
| --- | --- |
| Name | GARTH Harold Hector |
| Service Number | V12063 |
| Rank | Private |
| Unit | 12 Garrison Brigade |
| Conflict | Second World War 1939-1945 |
| Date of enlistment | Royal Park, Victoria |
| Locality on Enlistment | Beaconsfield Victoria |
| Served | Australia |
| Date of discharge | 22 November 1943 |
| Medals awarded | War Medal 1939-1945 (Withheld) |
| Born | 26 December 1899 at Prahran Victoria |
| Parents | John Thomas Garth and Sophia Bridgit Gardner |
| Married | Edith Florence Woods Melbourne Victoria |
| Occupation | Florist |