ORIGINAL AVENUE OF HONOUR NAME PLATE C.1929
Service number 38944
Neville Fairbairn Armytage returned to Australia on the 11th August 1919. Discharged on the 4th September 1919.
On the 24th April 1923 Neville married Joyce C Landale in Deniliquin, New South Wales.
They lived at "Warianna", River Street, Deniliquin. Neville's occupation was listed as Grazier.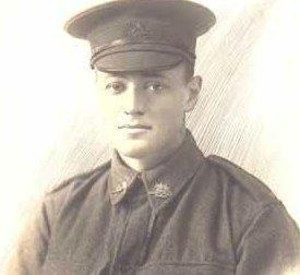 The Advertiser Adelaide (14th May 1917)
"Answered the Call – Enlistments – Public Schools Battalion.
A fine example of those attending to enlist in the Public Schools Battalion was set by Neville Fairbairn Armytage, 20, of Punt Road, South Yarra, who walked into the town hall recruiting depot this morning with his college colours flying and enlisted for service. This young recruit rowed with the Geelong Grammar crew in 1915-1916 and is a fine specimen of young Australian manhood. He described himself as a jackaroo on Mundiwa Station, Deniliquin."
Died on the 15th May 1973 at Deniliquin, New South Wales.
Cremated on the 17th May 1973 at Springvale Botanical Cemetery.
| | |
| --- | --- |
| Name | ARMYTAGE, Neville Fairbairn |
| Service Number | 38944 |
| Rank | Gunner |
| Roll | Field Artillery Brigade 27-35 Reinforcements (November 1917-June 1918) |
| Conflict | First World War 1914-1918 |
| Embarked | 26th November 1917 |
| City | Melbourne |
| Ship | SS Indarra |
| Age | 20 years |
| Birth Place | 13th September 1896, Armadale, Victoria |
| Father | Charles Norman Armytage, "Alta Vista", Punt Road, South Yarra |
| Mother | Leila Matilda Buckland (Halloran) Armytage |
| Religion | Church of England |
| Occupation | Jackaroo |
| Residence | "Alta Vista", Punt Road, South Yarra |
| Enlisted | 12th May 1917 |
| Height | 6 feet |
| Complexion | Fair; Eyes- Blue; Hair- Fair |