Service number 428272 Royal Australian Air Force
Bill attended Beaconsfield State School from February 1936 – December 1938. Then Dandenong High School February 1939 – December 1941.
Bill in his youth enjoyed football, cricket, swimming, tennis and athletics.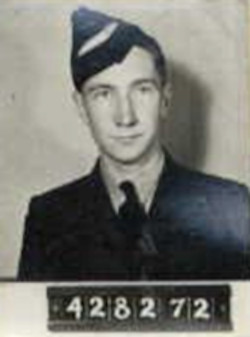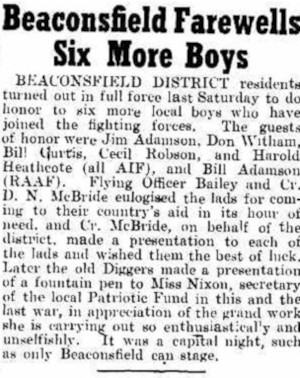 25 November, 1942
On the 10 October 1945 Bill piloted a flight that took off from Bamaga Airfield, Cape York, Queensland. After flying 120 miles, the left engine cut out and the aircraft attempted to return to base. After landing at the airport there was no break pressure and the aircraft a DAP Beaufort Mark V111 ran off the runway, none of the passengers were injured.
Prior to Bills discharge in November 1946 he married Mildred Kathleen Charlotte Armstrong in Claremont Western Australia.

1 February, 1946
After the war Bill and Kathleen lived in Claremont and various other suburbs in Western Australia. They had two sons Peter and David Ian.
Bill died on the 29 September 1990, Mt Pleasant Western Australia and is buried at the Fremantle Cemetery.
| | |
| --- | --- |
| Name | ADAMSON Ian William (Bill) |
| Service Number | 428272 |
| Rank | Warrant Officer |
| Unit | 37 Squadron |
| Conflict | Second World War 1939-1945 |
| Date of enlistment | 9 October 1942 |
| Locality on Enlistment | Melbourne |
| Served | Papua New Guinea |
| Date of discharge | 6 November 1946 |
| Medals awarded | War Medal 1939-1945 and Australia Service Medal 1939-1945 |
| Born | 15 April 1924 Berwick |
| Parents | John Adamson and Elaine May Pell |
| Married | Kathleen Armstrong 2 February 1946 Claremont Western Australia |
| Occupation | Insurance Clerk |